Credits are the currency for VFK. You can use credits to buy items for you or your rooms.
Obtaining Credits
Edit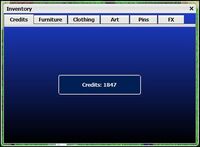 To obtain more credits to buy new cool things you can play Mini-Games and complete Quests. You can play games such as Audubon's Wildlife Adventure Game and 4th of July Fireworks!
Spending Credits
Edit
With credits you buy items in Stores. Different items you can buy are Furniture, Pins, Art, Clothing, and FX.
Trading Credits
Edit
According to the V.I.P. Package VIP's are supposed to be able to trade credits, however, this feature has not been put into effect yet.
Ad blocker interference detected!
Wikia is a free-to-use site that makes money from advertising. We have a modified experience for viewers using ad blockers

Wikia is not accessible if you've made further modifications. Remove the custom ad blocker rule(s) and the page will load as expected.