The Epic Ages area contains several areas.
Faerie Age
Edit
The Faerie Age contains 5 rooms:
Flower Patch
Enchanted Store
Moonlit Lily Pond
Myatia Meadow
Enchanted Cottage
The Enchanted Store is the only store that sells faerie items.

You must have Faerie Magic active to enter. ==
Merfolk Age==
The Merfolk Age contains 5 rooms:
Treasure Cove
Ocean Window
Sea Store
Neptune's Hollow
Marine Pass
The Sea Store is the only place you can buy mermaid items.

You must have Merfolk Magic to enter.
Icetastic
Edit
Icetastic contains 5 rooms:
Ice Rink (must have Ice Skates to skate)
Icetastic Shop
Icetastic Entrance
Icetastic Lodge
Icetastic Cafe
The Icetastic Shop is the only place you can buy Ice Skates.
Open Road
Edit
The Open Road contains 5 areas: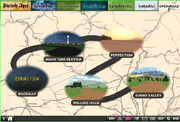 Perfection
Raceway (Not yet available)
Night time Seattle
Rolling Hills
Sunny Valley
You must own an automobile to drive in these areas.
Other Areas
Edit
Ad blocker interference detected!
Wikia is a free-to-use site that makes money from advertising. We have a modified experience for viewers using ad blockers

Wikia is not accessible if you've made further modifications. Remove the custom ad blocker rule(s) and the page will load as expected.