Alpha Testing
Edit
Alpha Testing Began on April 29th, 2008. Only very basic features were available such as walking around, and using the early room builder system with the three early objects. Alpha never truely ended. But the tests are no longer available.
Beta Testing
Edit
Beta testing started on May 22nd, right after VMK closed. On the first day only alpha features were available, but it was online. Beta testing ended on July 4th, with the start of gamma testing. Version I' Gamma.
Need Beta Testing Loading Screen
Gamma Testing
Edit
Gamma Testing Started on July 4th, right after beta. Its coming was marked with this new loading screen.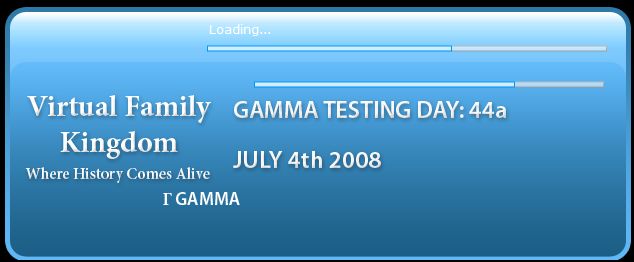 Gamma Loading Screen Gamma Ended on August 29th, with the start of Delta
Delta Testing
Edit
Delta Loading Screen Needed
VFK Planned Timeline of Game
Edit
This is a picture of the planned stages of the game:
We are currently in RC2, Delta Testing.
VFK Halloween Loading Stage
Edit
Used throughout the month of October. November 2008
All the maps and the Victorian Age are decorated to look like each of the holidays
Halloween
Edit
Durring halloween each Room in the Victorian Age played music
Released:25 October, 2008 Retired:15 November, 2008
The Varios Music that was played:
Spooky Music, Headless Horsman Running on Horse,(Corner of Balta Street, Main Street)

Drip Drap Drip Drap music, Organ Pushing Keys Randomly (Victorian House)

Spooky Music (different than Main Stree, Victorian Park)
Winter Holiday
Edit
Released:4 December, 2008 Retired:N/A
Different Music That was played:

"Silent Night (Lyricless)", "Rockin' 'Round the Christmas Tree (Muffled)" "Horse Stomping Through Snow Sounds" (Main Street)

"Away in a Manger", "Horse Walking through Snow", "Bells", (Victorian Park)

"God Rest Ye Merry Gentlman", "Bells", "Sidewalk Shoveling Sounds", (Corner of Balta Street)

"Oh Christmas Tree", "Bells", "Horse Walking in Snow Sounds", "Noel (Music Box Style)", (Victorian House)
August 2008
Edit
Players are now able to sit in certain chairs



12 new hairstyles for the boys and girls are introduced
New Pre-Gamma Public Areas
Edit
Australia is introduced to the public (it still say "Soon to be a tab")
August 29, 2008
4 new English Countryside Rooms off of Stonehenge


September 2008
Edit
Players are now able to trade clothing and sell clothing for half price (used to be full price)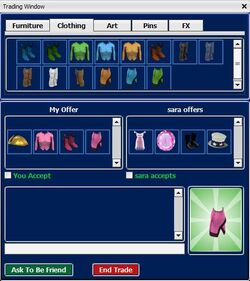 Ad blocker interference detected!
Wikia is a free-to-use site that makes money from advertising. We have a modified experience for viewers using ad blockers

Wikia is not accessible if you've made further modifications. Remove the custom ad blocker rule(s) and the page will load as expected.